Many things have changed since COVID-19 spread across the globe in 2019.
Work arrangements, travel plans, interactions with large crowds have all had to pivot or adapt since restrictions began.
Even the billion-dollar global fashion industry, with its ever-changing range of tastes, saw consumers adopt a less formal, more casual aesthetic, with people trading their trousers and sport coats for lounge pants, T-shirts and hoodies.
That unexpected shift in preferences sent many retailers to the brink.
But according to Darren Taylor, who owns Steinberg & Mahn's men's clothing store in Timmins, despite the industry's ups and downs, one thing has remained constant: customer service is still at the heart of the business.
"I think that's the secret to longevity," Taylor said. "Creating relationships."
Longevity is something that Taylor, who took over Steinberg & Mahn in the '90s, knows something about.
The store first opened its doors in 1919, back when formalwear was a more prevalent type of clothing in wardrobes. Think of donning your Sunday best before heading to church, or the suit-and-tie expectations around office wear.
"Years ago, you wouldn't dare go to church without a shirt and tie on or a proper cap," he said. "Now we're seeing the elevation of denim with great sport jackets and groovy shirts underneath. To me, it's just so casual."
Those days of formality may be gone, but Taylor has kept up with the times. Taylor's hand-picked patterned shirts from European labels, soft-tailored sport jackets, elegant dark wash denim, even high-end golf wear, are all part of his store's offerings.
"That's where it all begins," Taylor said. "A first impression goes a long way. Like in a job interview, it's that first impression sets the tone. And you don't get the second chance to make that first impression."
Taylor's approach includes keeping specific customers in mind when he attends fashion shows in Toronto. And even with the glitz and glamour of seeing the big fashion houses — labels like Versace, Hugo Boss, Zegna — strut their wares across the floor, Taylor said he focuses on picking out items for people he knows by name.
"I have one customer, particularly, who enjoys one of our European brands, and as you're looking you think, 'Hey, so-and-so is going to like this. He's always very open and into trying something different.'
"Then, you bring that clothing in, and when you see the customer you say, 'Hey, I was thinking about you. I brought this in with you in mind.'
"Guys think the world of you for doing that, and that's part of the relationship, part of what we do," Taylor said.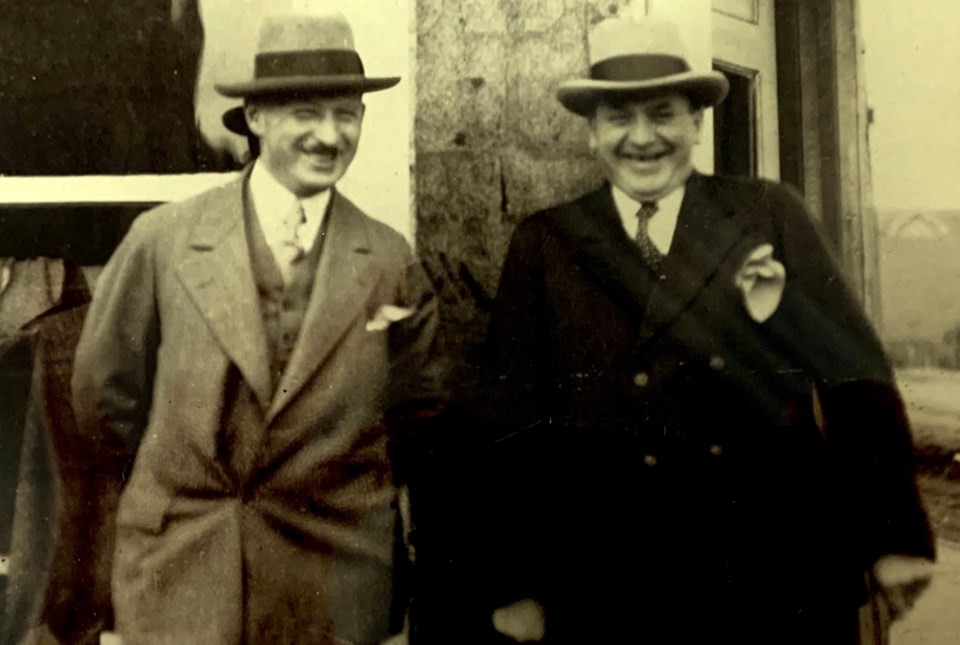 The customer-centric approach changed a bit over the lockdowns, Taylor said, which presented a bit of a challenge for the store. The menswear business slowed as fewer people needed suits, dress shirts or chinos. Global consultant McKinsey & Company estimates that the virus contributed to a 20 per cent hit across the industry in 2019-20.
Small retailers, especially in Ontario, were harder hit by a run of lockdowns. But even as things slowed down, Taylor used that time to focus on social media, creating a dialogue with his established customer base and reaching out to new ones.
That includes Taylor's personable, 30-second Instagram videos, where he gives customers updates on the store, as well as the latest trends in men's fashion. It's the personal touch that Taylor perfected while in-store, translated across to the digital world.
In one Instagram video Taylor stands with a tailor's tape measure draped around his collar, alerting viewers to a special deal for graduating students.
In another post from 2021, Taylor admitted the weather outside was frightful, but a new shipment of Blundstones — a rugged, Australian slip-on boot, perfect for Northern Ontario winters — had arrived just in time.
Even with the fun of performing for the social media audience, and the positive feedback they received, Taylor said he eventually returned to focusing on the in-store experience.
"E-commerce was marginally successful, to be honest," Taylor said. "But once things got going again, I just focussed on the bricks and mortar, the actual store."
The store also faced some other challenges. In a recent act of vandalism, the storefront's windows were smashed, and Taylor had to temporarily replace them with plywood.
But he's not letting that little setback change his outlook.
Taylor said business is sure to pick up, as more venues reopen and people return to social settings that were mostly postponed during the pandemic.
"I think people are just thrilled to be going somewhere," he said. "You know, people have been sitting at home looking at the last few New Year's Eves on TV; we're sitting at home in our cozies and we're not going anywhere.
"But we saw evidence this past summer, especially for prom," he said. "There really hadn't been prom celebrations for over two years."
Many schools turned to online celebrations, virtual ceremonies for the students' special day.
"Granted, the schools did their best, and that's what it was," he said. "But this year, it was just so overwhelming, where all the schools were full-blast prom."
There was also a boom with planning wardrobes and providing fashion advice for groomsmen.
"It was just off the charts for helping couples plan their big day," he said.
But even with the changing times — and changing tastes — Taylor said he continues to emphasize that personal touch as he steers the century-old store into the next decade.
"A few years ago when we celebrated our 100th anniversary, someone said, 'You know, over 103 years, with all the people that have come through this door, if these walls could talk,'" Taylor said.
"That's just the history of what goes on when you when you look after your customers."