Just a year out of business school, Mylène Coulombe-Gratton has already made an impression on Northern Ontario with her entrepreneurial spirit.
In its short, two-year existence, Coulombe-Gratton's Follow Her North adventure company has introduced hundreds of clients to the great outdoors, and now she's directing her energy into completing her latest venture: Inn The North, a bed and breakfast that will serve as a base of operations for thrill seekers venturing into the wild.
The inn itself is a converted general store that once belonged to her great-great-grandfather, Coulombe-Gratton said, and the name she chose is a play on words.
"Now when people come stay with us, they're going to get to stay in the North," Coulombe-Gratton said.
Beyond the familial connection, the outpost has a bit of history. Years ago, cottagers, campers and anglers would stop at the general store — about 15 kilometres north of Hearst on Highway 583 — to pick up groceries and small household items.
It was one of the few places travellers could stock up, and also served as a meeting place, a pit stop, and a warm, inviting place to rest.
Now with renovations underway — Coulombe-Gratton expects the Inn to welcome its first guests in February — she posts her progress in short video clips on TikTok, which is eliciting some positive feedback from social media.
"People are coming and saying, 'Oh my god, I remember I used to go there when I was younger,'" she said. "'It's so great to see the place coming up alive again.'"
Although she hasn't ruled out providing some of the same services the old general store once did, Coulombe-Gratton said it will now serve as an office for Follow Her North, and as a starting point for her adventure clients.
"You'll have access to snowshoes, skis, the fish hut that's on the lake and available for rent," Coulombe-Gratton said. "There's going to be walking trails nearby, and it's 200 metres from the lake. There's also a public dock there.
"I really want to make this a place for people where they can relax and enjoy the outdoors, as well."
For Coulombe-Gratton, the outdoors is synonymous with relaxation and peace of mind. Her father first introduced her to the Northern Ontario lifestyle — hunting, hiking, snowmobiling — at a young age and she's turned that enthusiasm into a business venture.
She acquired her hunting and snowmobile licences at the age of 12, then earned her Bronze Medallion, Bronze Cross, CPR and Aquatic Safety Instructor soon after.
As she continued to develop her outdoor skills, and the prospect of parlaying her passion and expertise into a vocation became realistic, she then set out to earn her Wilderness First Responder, White Water Rescue technician, Canoe Tripping 2, Paddle Skills Canada, Leave No Trace and Field Leader certifications.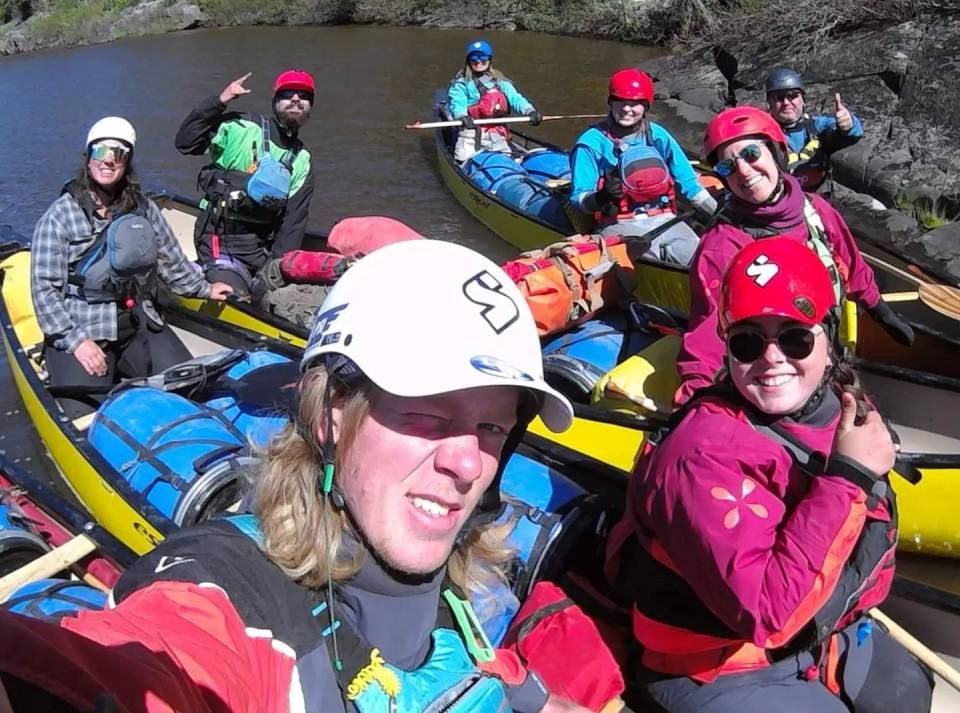 Coulombe-Gratton said she's now in a spot where despite her age, she's got plenty of experience and qualifications to lead entire groups through the wilderness by snowshoe, sled or canoe.
"One of my main goals was to share my passion for the outdoors with as many people as I can," she said. "I do that by offering different types of activities for every skill level."
And it's becoming more important, Coulombe-Gratton said, to help people find a little "disconnect" from the world. She said the recent pandemic, which forced people inside, glued to their computer screens, may have also helped people appreciate the solitude of Northern Ontario.
The pace of modern life, with its constant state of being plugged in to work, school, or social media, means people would probably benefit from being off-grid, at least for a while, she said.
"It's therapeutic," Coulombe-Gratton said. "You get outside, you're far from real life, you have no cell service, you're completely disconnected. It's another world."
And clients, especially those who sign up for one of her longer, three-day snowmobile trips to the James Bay coast, are in need of some downtime, she said.
Relaxing, but certainly not easy, she added.
"You focus on what you're doing. You have to build your tents, you have to make a fire. And that's your only concern for the moment.
"And everything else that's going on in your life is on pause," Coulombe-Gratton said.
That particular adventure is proving popular with clients, she said. The crew departs by snowmobile from Hearst on the first day, with a stop in Onakawana, 100 kilometres from the James Bay coast.
The following day, riders explore Mooseonee and Moose Factory before returning to Onakawana. On the final day, the destination is Smooth Rock Falls via the Abitibi Canyon before heading back to Hearst.
What she hopes to provide for her clients, Coulombe-Gratton said, is not only an appreciation of the Northern Ontario landscape, but also an opportunity for them to discover their own potential.
And maybe they can turn that energy, like she did, into a business opportunity.
"When you do work you love, the days go by fast," she said. "And you're just sharing your passion with everybody and meeting great people.
"You're networking, but you really feel like you're in your place."